Advertise your business
Reach thousands of potential customers!

Business Card Ads are $24.00 per year (That's only $2.00 per month)
(standard size cards 3-1/2" x 2")

Please send your business card and payment to:
Historic Speedway Group
attn. Web Advertising
P.O. Box 1051
Hillsborough, North Carolina 27278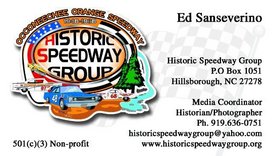 Copyright (c) 2012 Historic Speedway Group. All Rights Reserved.