Man's passion leads to a lifetime of NASCAR photography

By Dwight Dana      Morning News reporter       July 17, 2008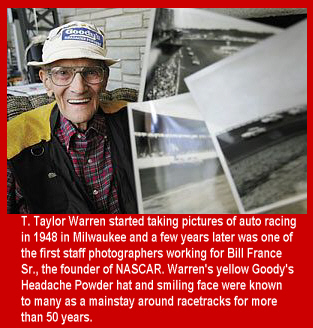 FLORENCE — T. Taylor Warren, 83, knew from the time he first got his hands on a box camera in the early 1930s that he wanted to be a photographer.
And that dream came true for him when he graduated from Rochester (N.Y.) Institute of Technology with a major in photography and a minor in color photography.
Warren's brother told him he was "messing with roaring roadsters" while Warren was working for a photo lab in Milwaukee in the 1940s. Warren went out and took some shots at the Milwaukee fairgrounds.
He started making prints and selling them to the drivers. He kept up with the racing pictures after being moved to another lab in Kansas City, Kan.
Then along came Eastman Kodak Co., which recommended Warren's talents to a Kodak lab in High Point, N.C. Warren was getting much closer to what real racing was about.
He made friends with a public relations representative from Bill France Sr.'s office in Daytona. France started NASCAR.
"I was hired part time in 1952 to shoot races on the beach in Daytona on the weekends," Warren said. "Then they fired me at Kodak because they said I was spending too much time at racing events. Back then, racing was thought of as a redneck sport."
Warren took pictures of all the NASCAR pioneers, such as Joe Weatherly, Curtis Turner, Fireball Roberts, Lee Petty, Cale Yarborough and others.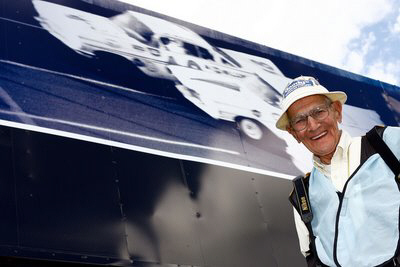 And he sprang to sudden fame when the Daytona International Speedway — the crown jewel of auto racing — opened in 1959. It was a photo finish between Lee Petty's 1959 Oldsmobile and Johnny Beauchamp's 1959 Chevrolet. Warren caught the action at the finish line with a twin lens Rollei (Rolleiflex) long before the days of camera motor drives.
Warren's first time shooting a race at Darlington Raceway was the 1952 Southern 500. The late Fonty Flock won the event in an Oldsmobile. Known for his unique racing attire, Flock wore a pair of flashy Bermuda shorts throughout the race.
Warren is known far and wide in NASCAR's photographic community. He is a familiar sight in his Goody's hat with his camera strung around his neck.
Jim Hunter — NASCAR's vice president of communications and a former president of Darlington Raceway — has known Warren for decades.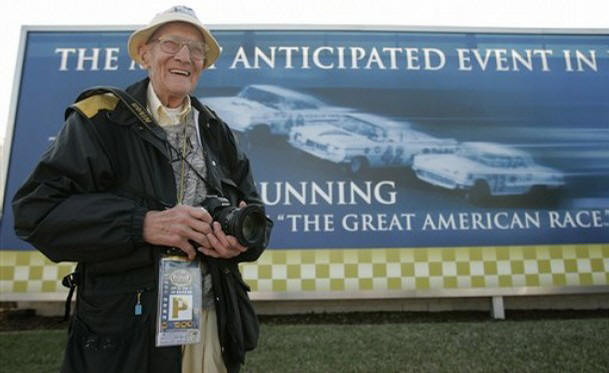 "I would say that T. Taylor is the godfather of photography in NASCAR," Hunter said during a telephone interview Thursday from his home in Darlington. "If I'm not mistaken, T. Taylor was NASCAR's first photographer. Every other photographer looks up to him. He is always willing to share his vast knowledge with the younger guys."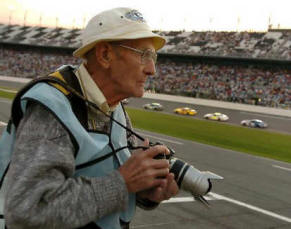 And Warren's not influential just from a photographic standpoint, Hunter said.
"T. Taylor's conduct has always been above reproach," said Hunter, who was a journalism major at the University of South Carolina in the late 1950s. "He's a nice, nice man who is well respected and well liked."
Warren and Virginia, his wife of 61 years, live in Florence. They previously lived for 31 years in Martinsville, Va., where they owned a photo studio.
"Taylor wanted to live in Virginia and I wanted to live in Florida," she said. "We split the difference and moved to Florence. I bought the property here without him seeing it. He fussed and fumed until he saw it. It's in the country, and we have our privacy on five acres."